How we differ from others
Cold Pressed Sunflower Oil!
Sunflower oil is an integral part of our diet. The vegetable fats contained in sunflower oil are essential for the body and beneficial for it.
But only if the oil itself is of high quality, made according to the appropriate technologies.
Cold pressed only!!!
For production of TM "Granja Verde" oil we use technology of the first cold pressing (extra Virgin).
The seed before being placed under the Press is not heated (it is approximately room temperature).
After the first cold pressing, the oil also undergoes "cold" filtration, which allows it to carefully preserve all the nutrients, while getting rid of unnecessary wax suspensions.
What to choose?
Olive or sunflower, but only cold pressed? The content of some vitamins and amino acids in our TM "GREEN FARM" sunflower oil is several times higher than in the olive analogue. So, polyunsaturated fatty acids (Omega-6) in sunflower oil 65 mg / 100 mg, and in olive - 10 mg / 100 mg, vitamin e-in olive-14 mg / 100 mg, and in sunflower - almost 4 times more
Extra Virgin Olive Oil
Fatty acids (Omega-6) - 10mg/100mg
Vitamin e-14mg/100mg
Cold pressed sunflower oil
Fatty acids (Omega-6) - 65mg/100mg
Vitamin e: almost 4 times more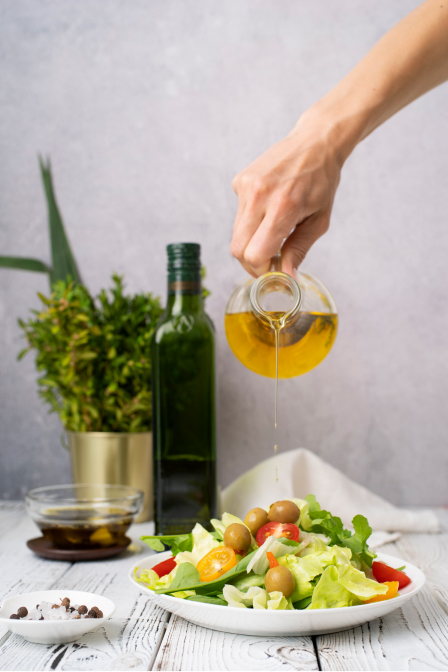 Tried!
Reduce cholesterol with regular consumption of our product!
Regular consumption of first cold-pressed sunflower oil helps reduce cholesterol due to the presence of 60% linoleic acid. Also, our oil is 3-6 times cheaper than olive oil (Extra Virgin)!
No harm to health
Cold-pressed sunflower oil TM "Granja Verde" does not contain ballast substances, and with the help of "cold-pressed" and "cold-filtration" technologies, it minimizes the content of harmful waxes and increases the content of vitamins and other useful trace elements. In particular, vitamin e, which retains the usefulness of most substances during heat treatment
Pleasant kitchen without smoke or smell
Thanks to technology, our oil does not foam, does not "shoot/jump" and does not Smoke in the pan when frying. Cooking becomes a pleasure!